Madagascar, Live Aboard, South of Nosy Be
Another successful fishing trip to Madagascar has come to its end. Our tour leader Johan Mikkelsen went with 7 of our guest to this GT-paradise, Madagascar. They stayed 7 nights on two sailing catamarans that took them far south from Nosy Be to fish remote areas. A perfect combination of new fishing grounds every day and to live comfortable and eat excellent french inspired food every evening with full service from the staff.

The group arrived November 19th, and after an hour in the transport they finally came to the harbour where our collaboration partner Alain welcomed the group with a cold beer and the briefing for the next couple of days. They had first planned the north route but due to the weather forecast and the best action lately they changed the plan to the south route instead, a place which usually has much better weather conditions but still got superb fishing.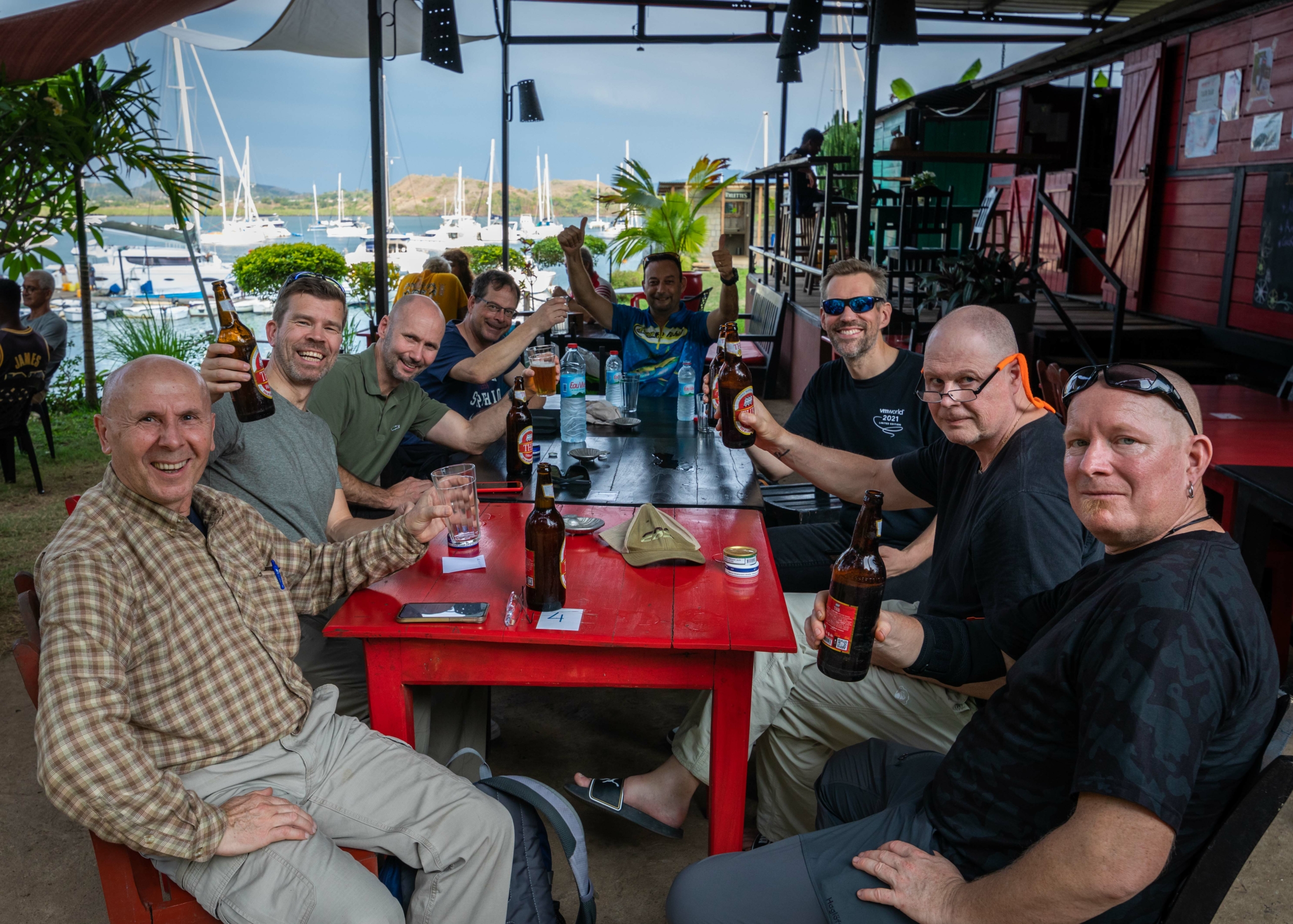 Most of the guys had done similar trips before but the first day is always a day to get used to all the different techniques, get the right rhythm and double check all the knots and material.
When it comes to fishing for giant trevally aka GT, there is no space for small faults. Everything needs to be in perfection, from the right knot, lines, sharp hooks, rod and reel and your your state of mind. As Alain told us before we left – "Fish like there is a dream fish that's about to bite on every cast you do, stay focused, fish with your heart and be ready" When the dream fish come you might only have one chance, make sure to set the hook as hard as you can and even do a second or third strike if you felt the first one wasn't hard enough". There is no room for failures, this is GT-fishing..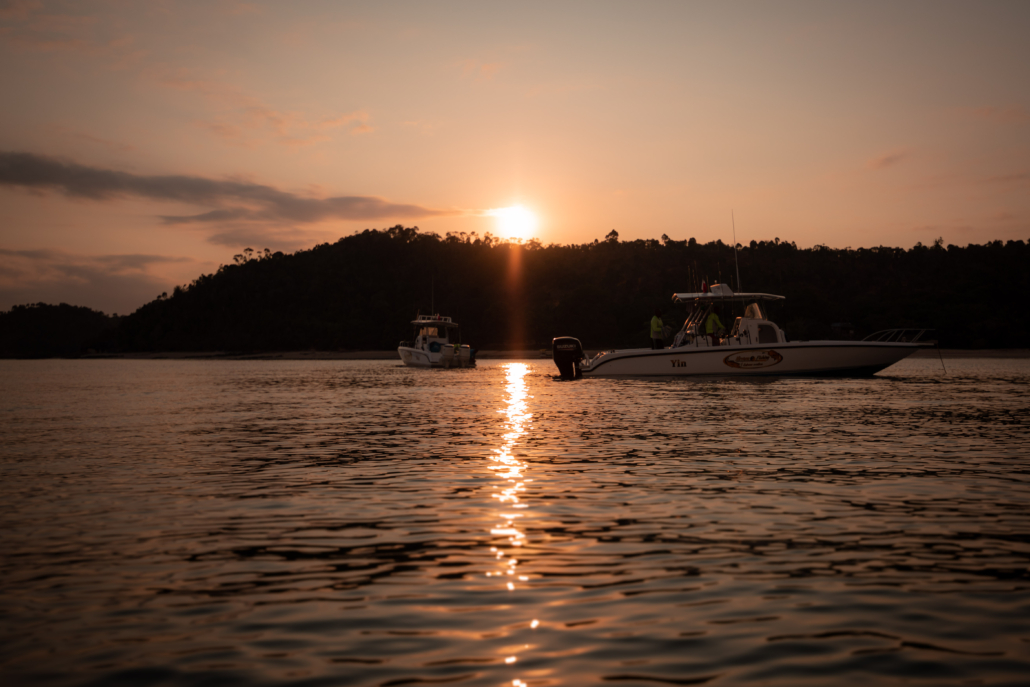 The first three days the fishing just became better and better, techniques improved for every cast we did. Fishing also got better when we got further away from the main island of Nosy Be, far away from human impact. We caught many different species of fish on both casting and jigging. Madagascar really has a vast variety of species and you never now what you will get when fishing in these waters. The client Marek, 65 years old, had never done this type of fishing before but was eager to learn. He was in the same boat as our tour leader Johan and got all the small advices to improve everything from extending your casts to fishing the lures correctly and how to make those hard strikes. In the beginning it was hard to adapt to all the new techniques. The fish down here at the tropics are just so strong and it's hard to prepare for this before hand. You have to feel the power of a GT first to fully understand. On day 2 both Richard and Marek had a big GT crash-biting their lures but both of them were lost. The words from Alain echoed in our heads…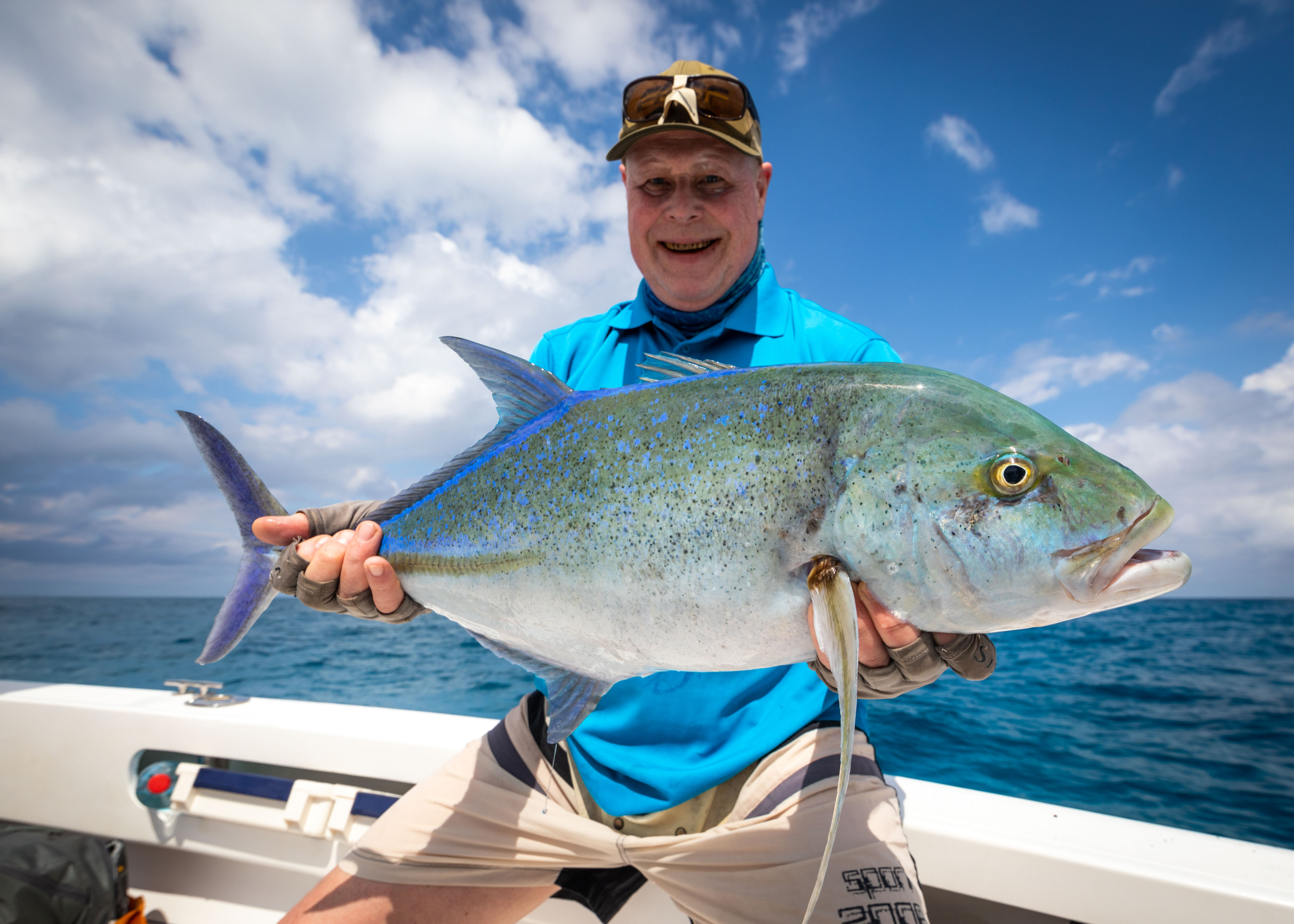 We caught a few GT's the first days of fishing but the big ones got away. We also caught some king mackerels, green jobfish, groupers, bluefin trevallies, shark, horse-eye jack, coral trout, red snapper, bonito and some other smaller species of fish. We also had a huge sailfish hitting Richards lure and followed all the way to the boat and went from one lure to the other but unfortunately lost interest and went away. An excited moment that will always be remembered.
The other boat team with Anders Krus, Patric Guve, David Halldén and Martin Gräslund aka (Team Riskaka), also had a similar results with different species of fish, with some big king mackerels, GT's, barracudas, rusty jobfish and so on.. But the real action started on day 4, especially for Team Riskaka that experienced world class fishing for GT's!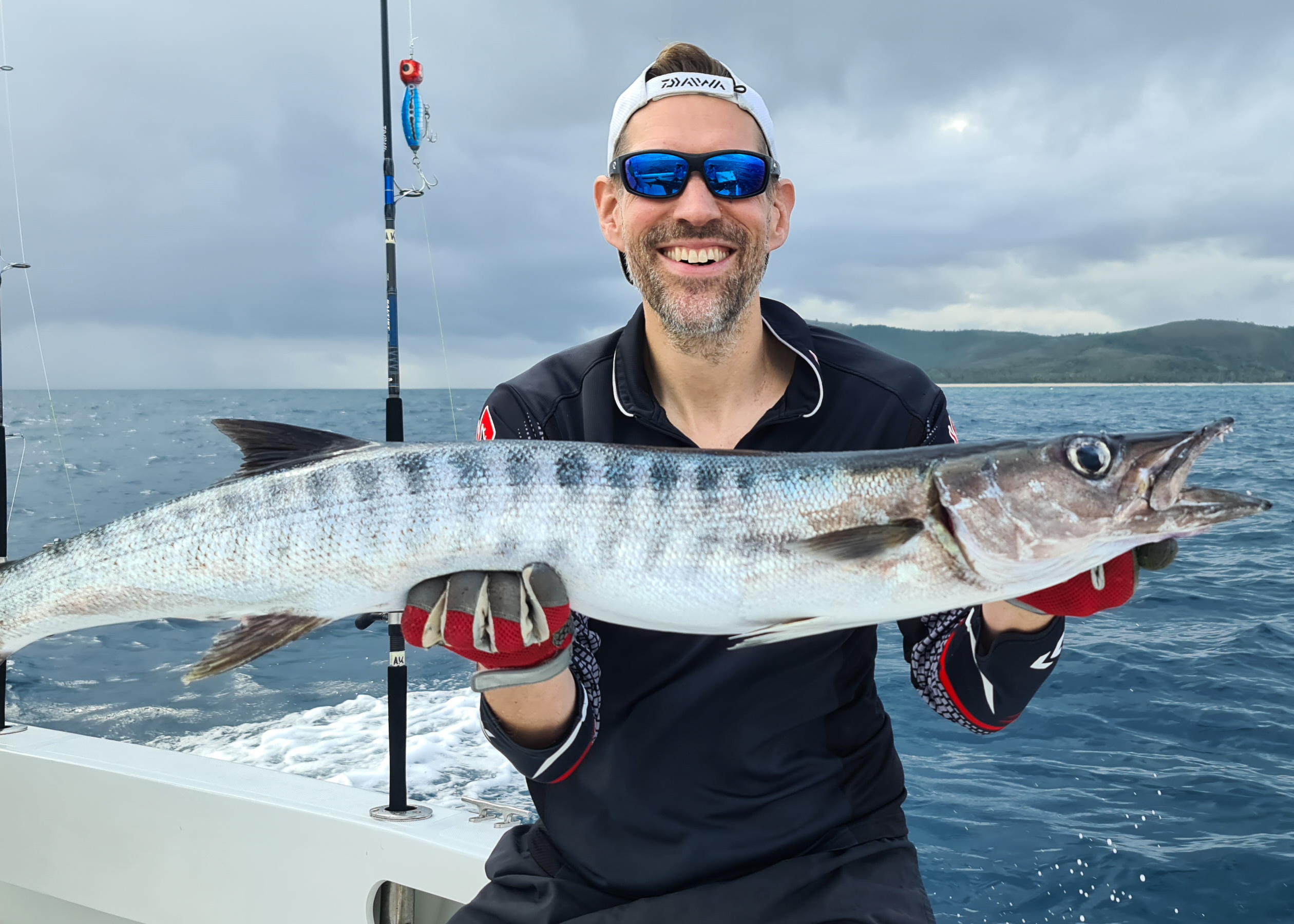 During the forth day we also got to experience the feeding frenzy of GT's. We fished a pretty shallow area with some current pushing in some baitfish. On one of the spots we got a tripple hook up of GT, and even a quadruple hook up! It didn't matter where you cast, what lure you had or how you fished.. The GT's where all over our lures and with crossing lines and full action in the boat, we just laughed and did our best to land those fish. Crazy fun but action faded out fairly quick after that.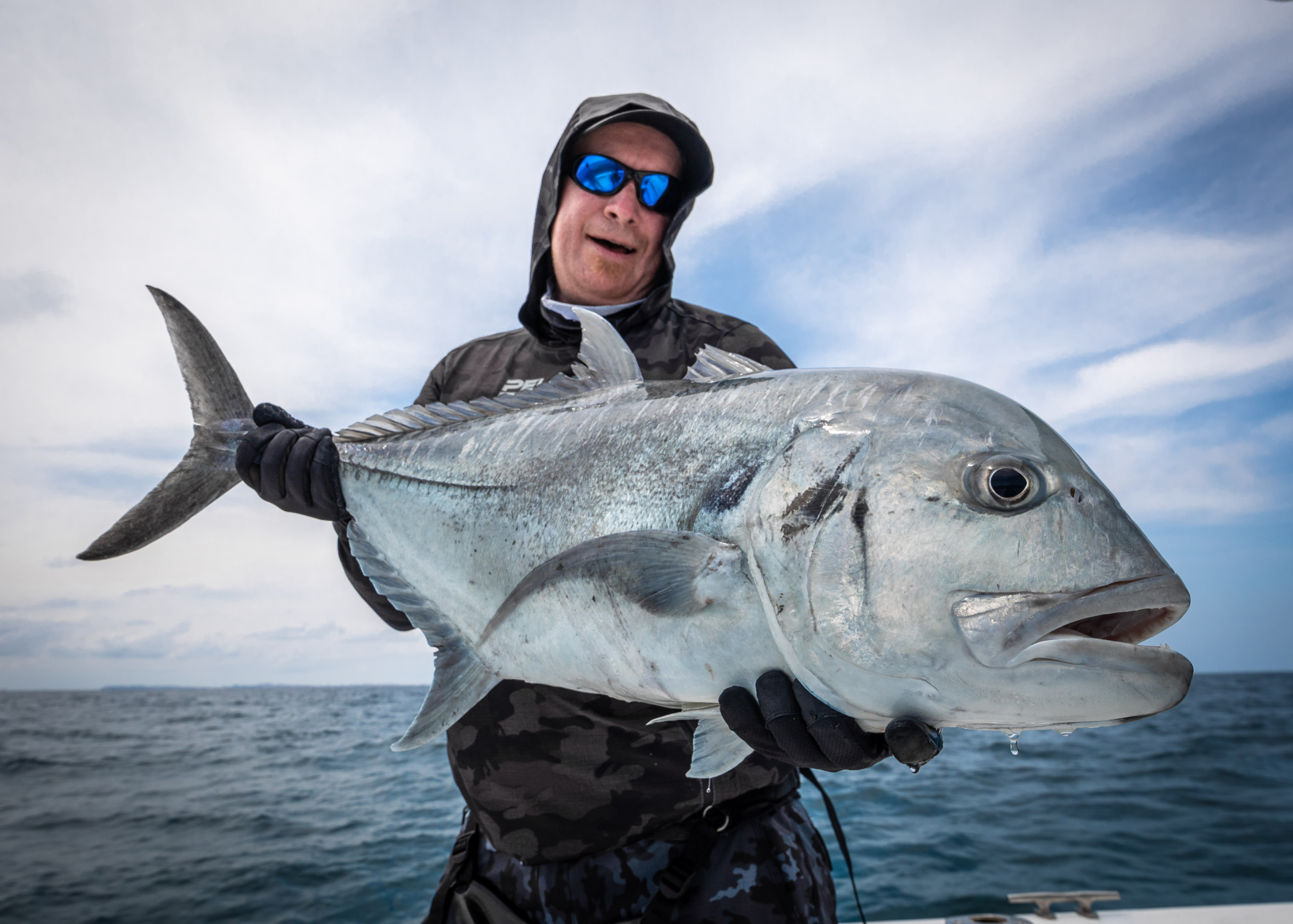 Team Riskaka, had a similar fishing that day but they also found another feeding frenzy just before the sunset and caught 23 GT's during a short but intense session with some bigger ones as well! Amazing end after an already good day on the sea.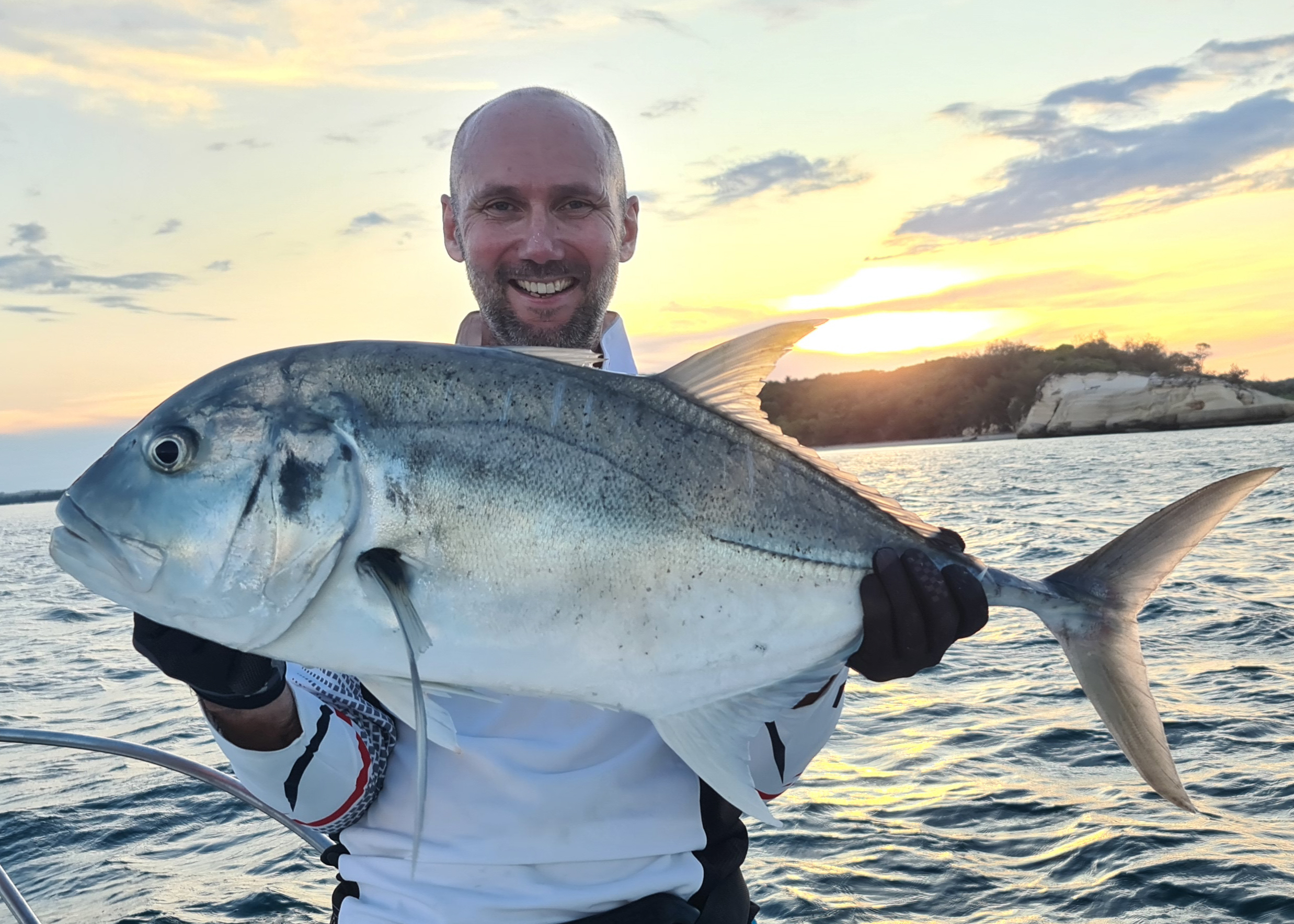 During that evening we saw the power of mother nature. A thunderstorm was staying over the main island and we could watch how those lightnings where hitting the ground and running between the heavy clouds. It felt like Thor himself was present with his hammer…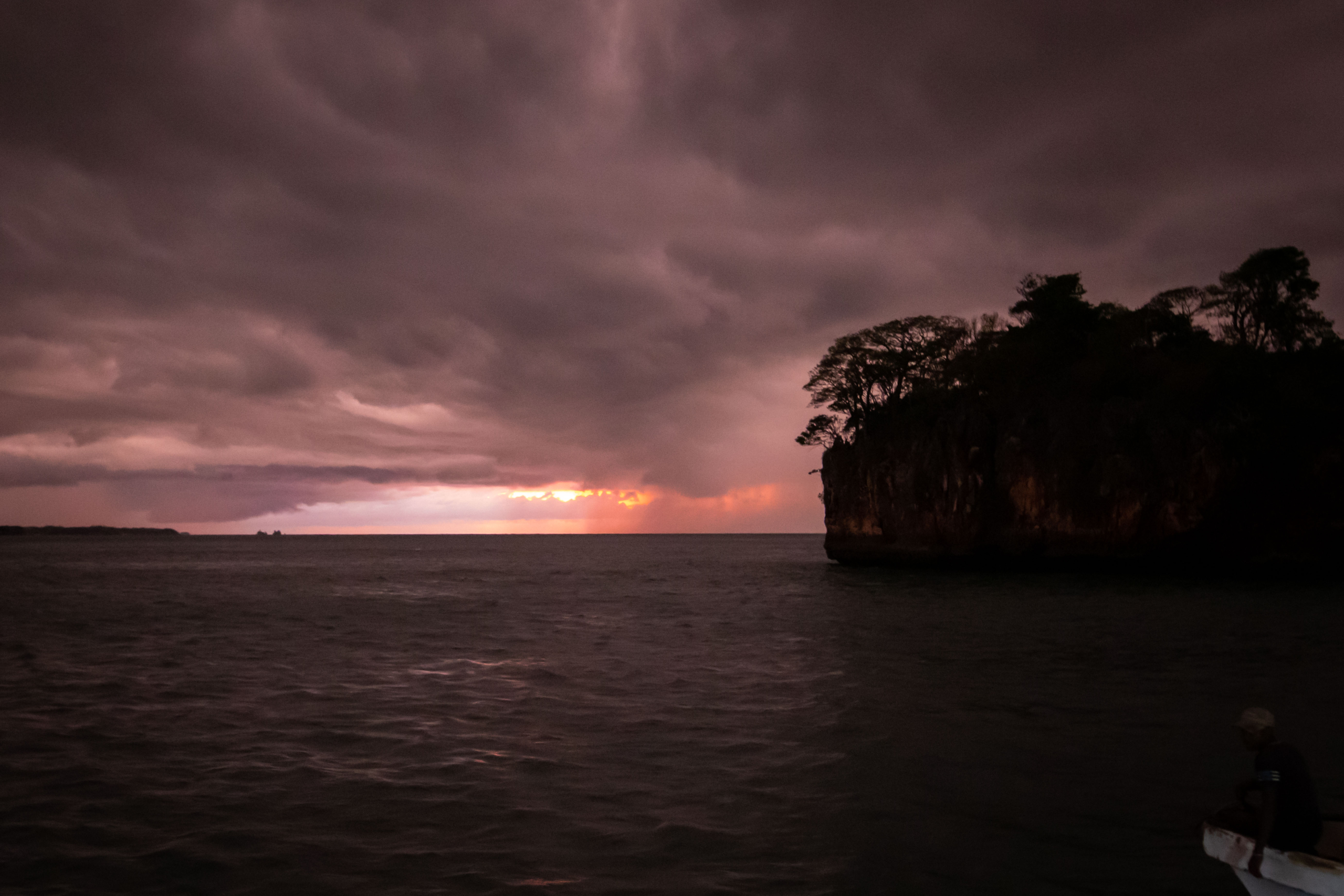 Day 5, after the thunderstorm and heavy rain during that night we woke up to a completely flat sea and the sounds of the birds. We got a solid breakfast with fresh fruits, pancakes, eggs and french bread.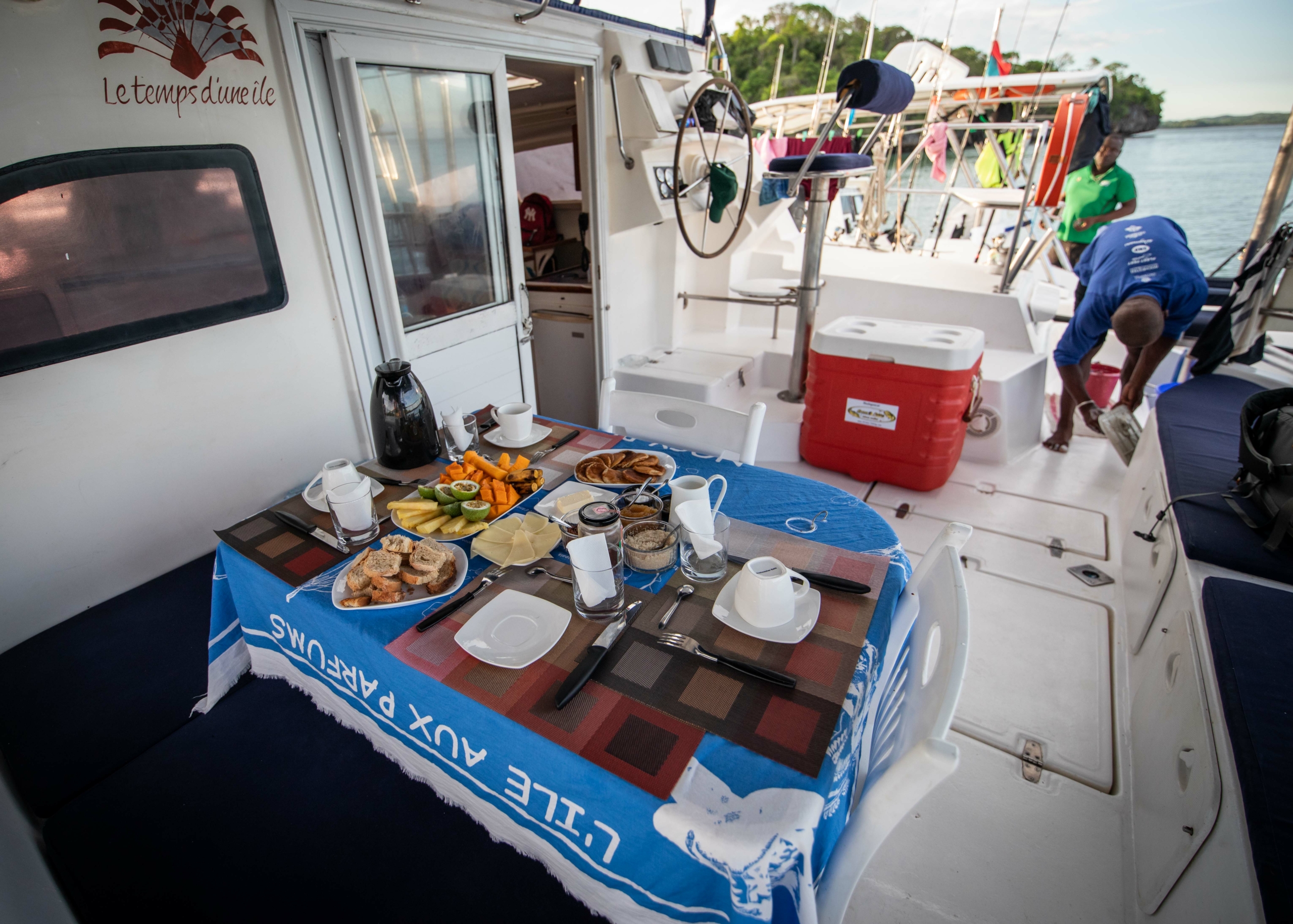 The fishing seemed to be best during the morning for us, and we caught a couple of nice GT's with biggest one to Per Nordgren and around lunch time we encounter the biggest shoal of GT's I've ever seen. Mostly smaller ones but they where in numbers of 100+ fishes and they where just under the boat. We switched over to jigging and caught immediately fish with tripple hook ups on light tackle. Super fun, but with a lot of crossed lines and full action in the boat. Marek also caught the very rare species of trevally, the golden trevally and not only one but two of them, the captain Sean Claude also caught a third one. These fish doesn't grew much bigger than this and are normally feeding on crabs and crayfish from the bottom. A super rare and cool species of fish to catch! After this crazy fishing we took lunch and for the rest of the days we had a hard time in hooking up to fish.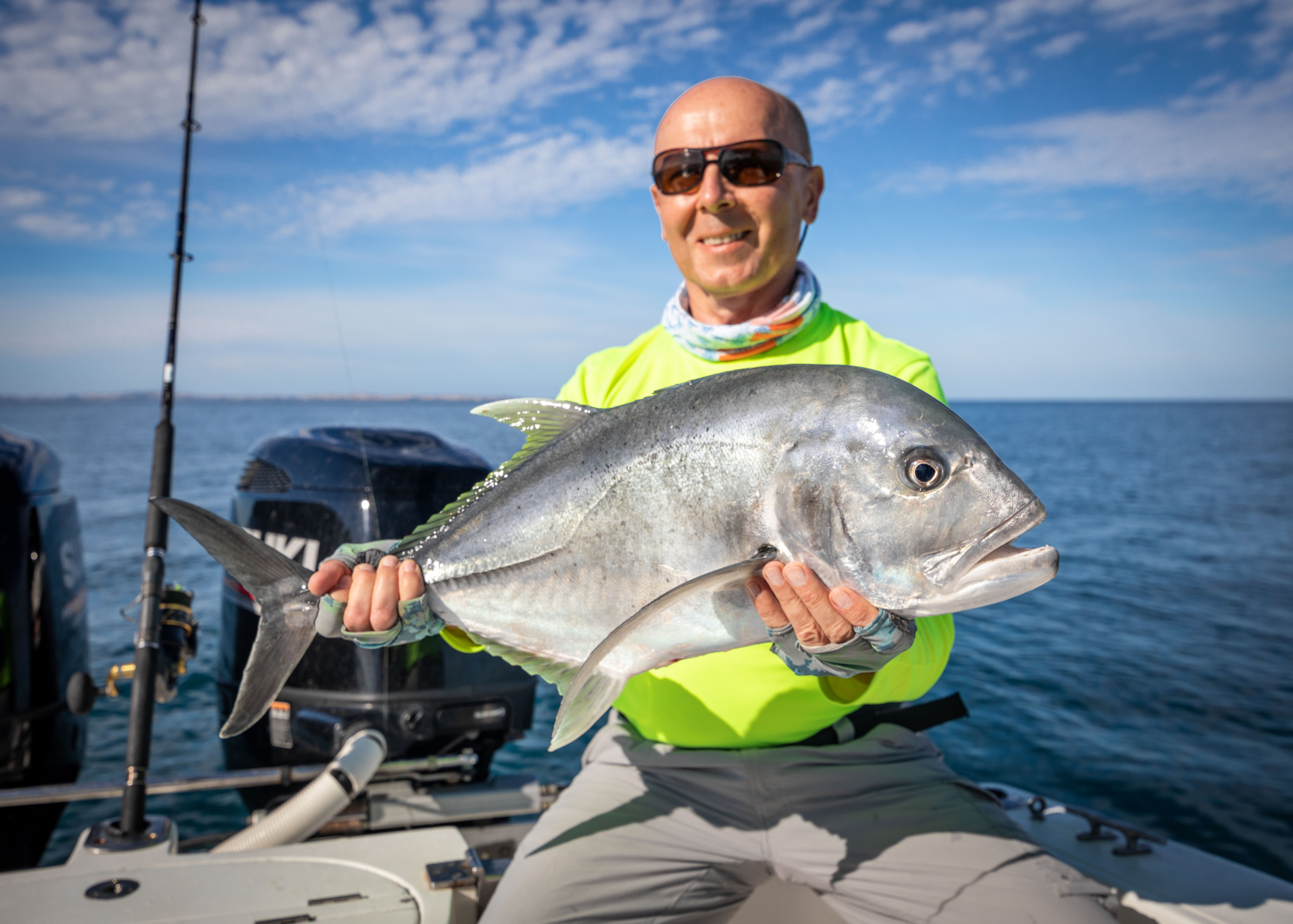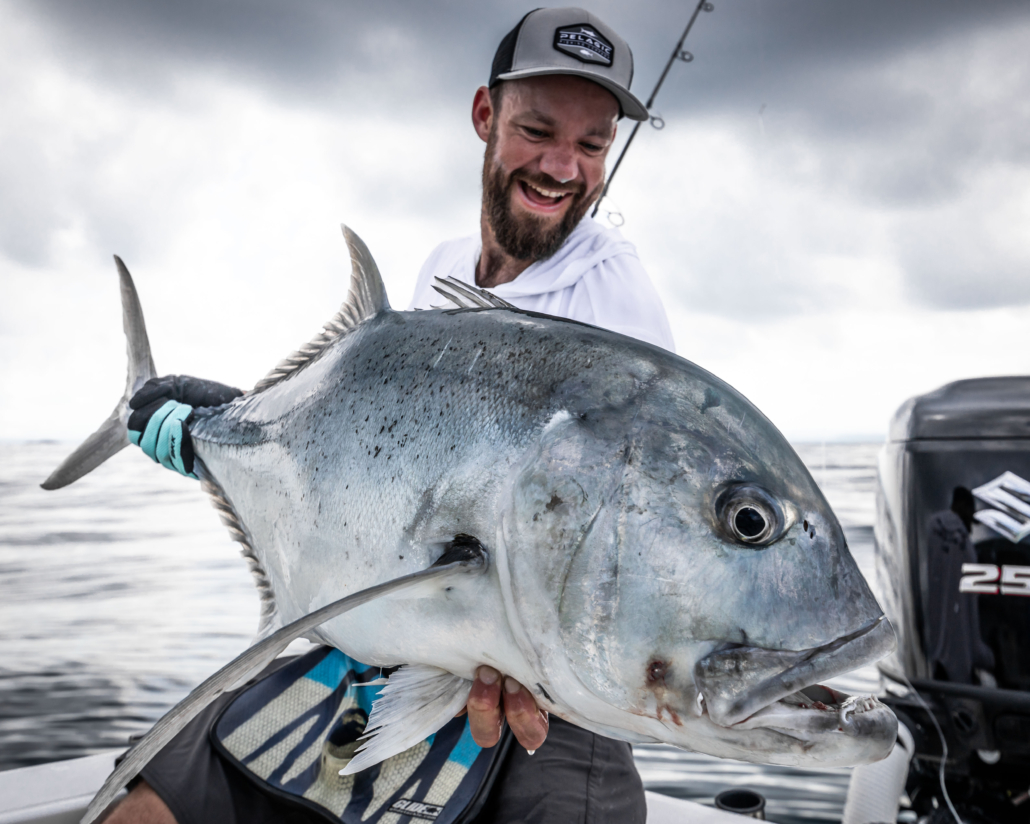 When we met up with Team Riskaka they told us about the most crazy GT-action just before sunset. Multiple tripple hook-ups and even quadruple hook-ups and many of them very big as well and with the biggest fish to Anders Krus, and what a dreamfish! The captain himself was so impressed over these HUGE fish that he also wanted to be in the picture. They wanted to release it as quick as possible after the pictures so they never weighted or measured the fish. But we are happy to say it was a BIG one and that it swam back in a good condition. How big it was we will leave to the unknown.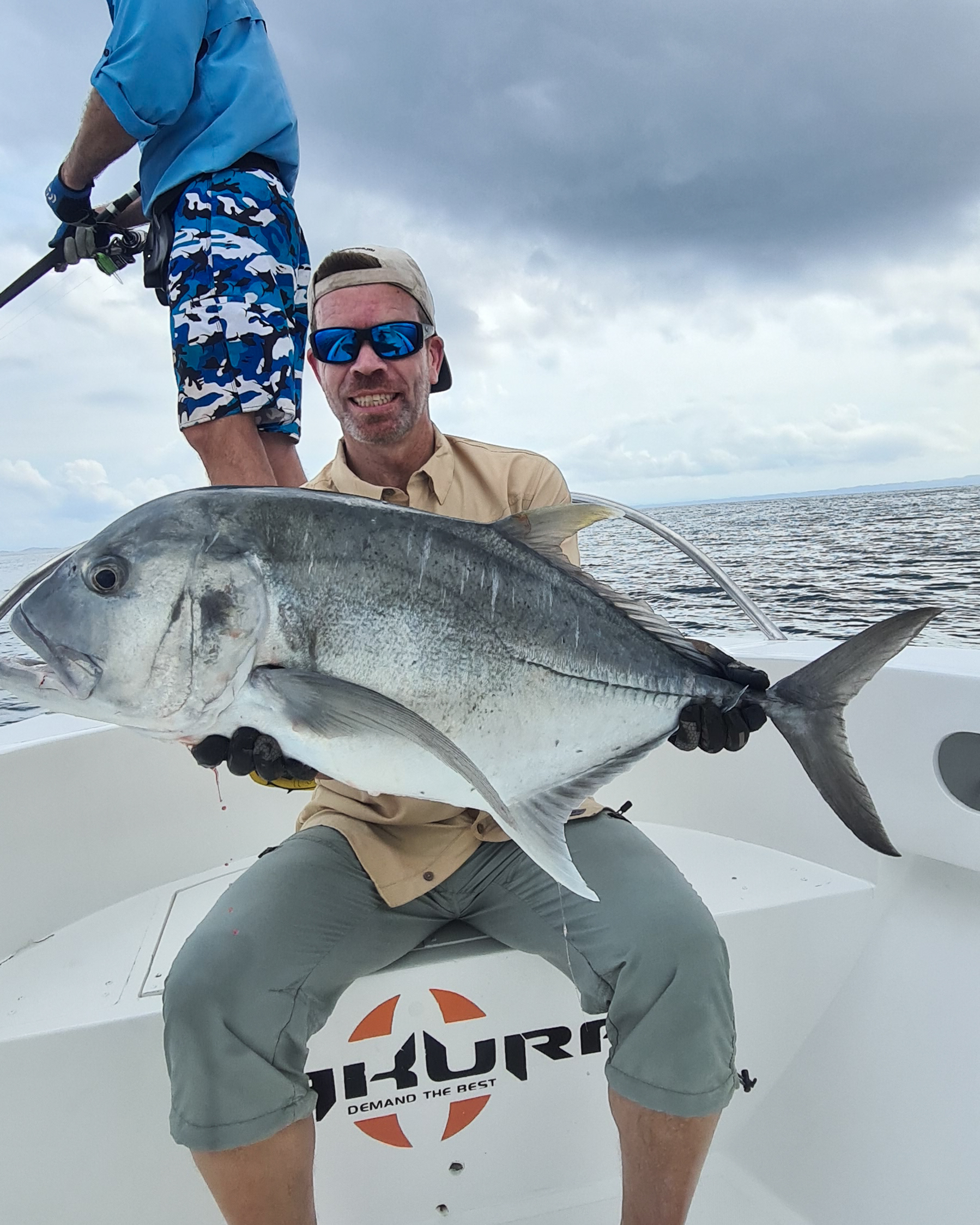 Last day was slow for Johan and the guys, some different species where caught but they never found the real action that day, but once again Team Riskaka found some good action on the GT, a perfect ending for their trip with us. The last day they left us infront of Nosy Be Spa & Hotel where we had the last night with great food, sharing amazing fishing stories with each other and enjoyed the last day at the swimming pool. A perfect way to say good bye to Madagascar for this time!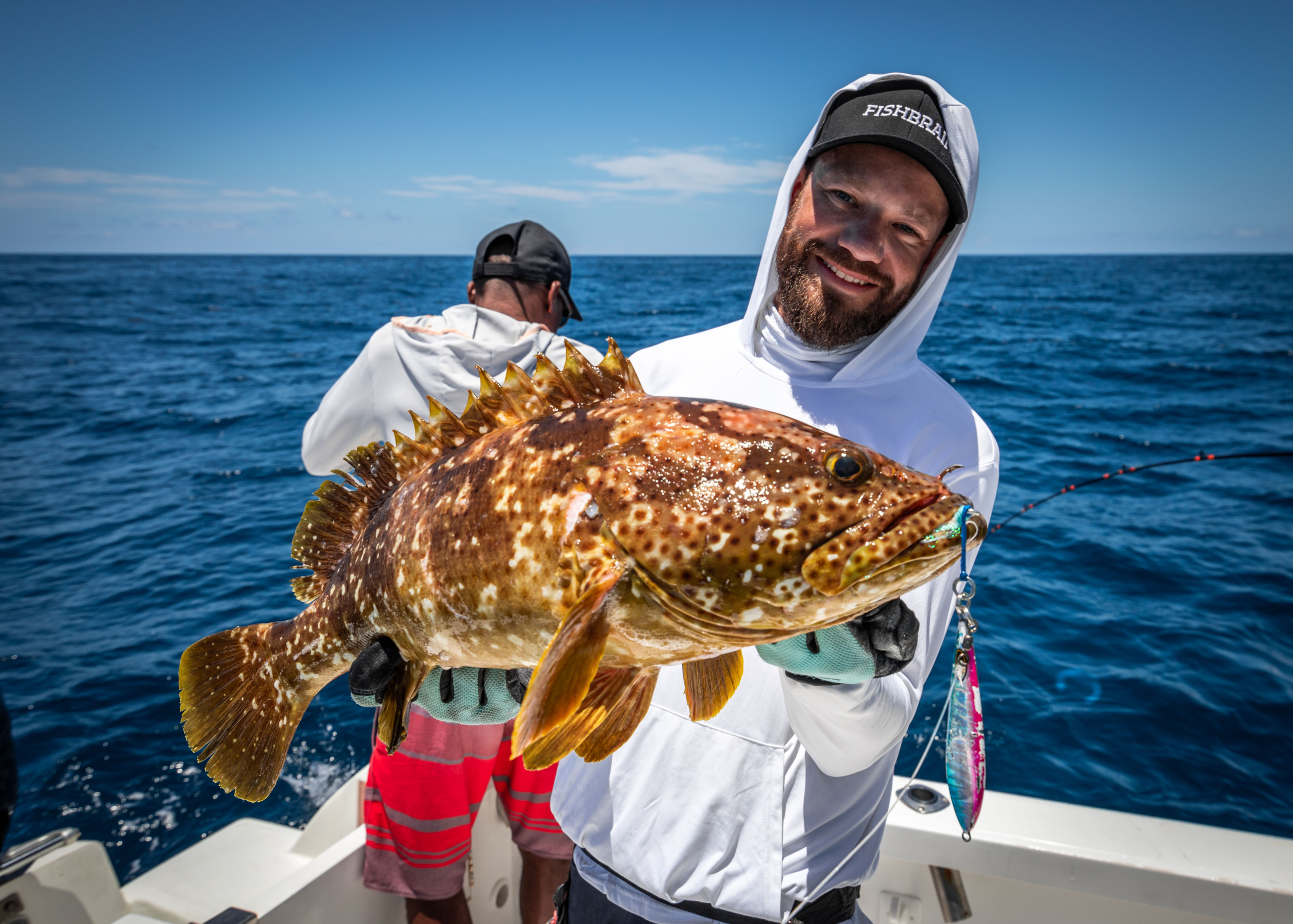 We congratulation all the guys for their amazing catches and fishing stories that will been in the history books for ever! Memories for life, friends for life and a fishing trip for life!

Madagascar is an amazing place that should be on all serious anglers bucket list.

Tight lines,
Johan Mikkelsen
Tropical Sea Angling


https://tropical-sea-angling.se/wp-content/uploads/2022/12/2022-11-24-09.59.42.jpg
1794
2512
Erik Axner
https://tropical-sea-angling.se/wp-content/uploads/2019/04/tsa_logo_250.png
Erik Axner
2022-12-01 12:41:10
2022-12-01 12:41:11
Madagascar, Live Aboard, South of Nosy Be